We are super excited to invite you to our 4th Annual "Journey to Brazil" Summer Camp for Kids to be held at ArteLuta Capoeira Academy.
REGISTRATION IS NOW OPEN:  CLICK HERE TO APPLY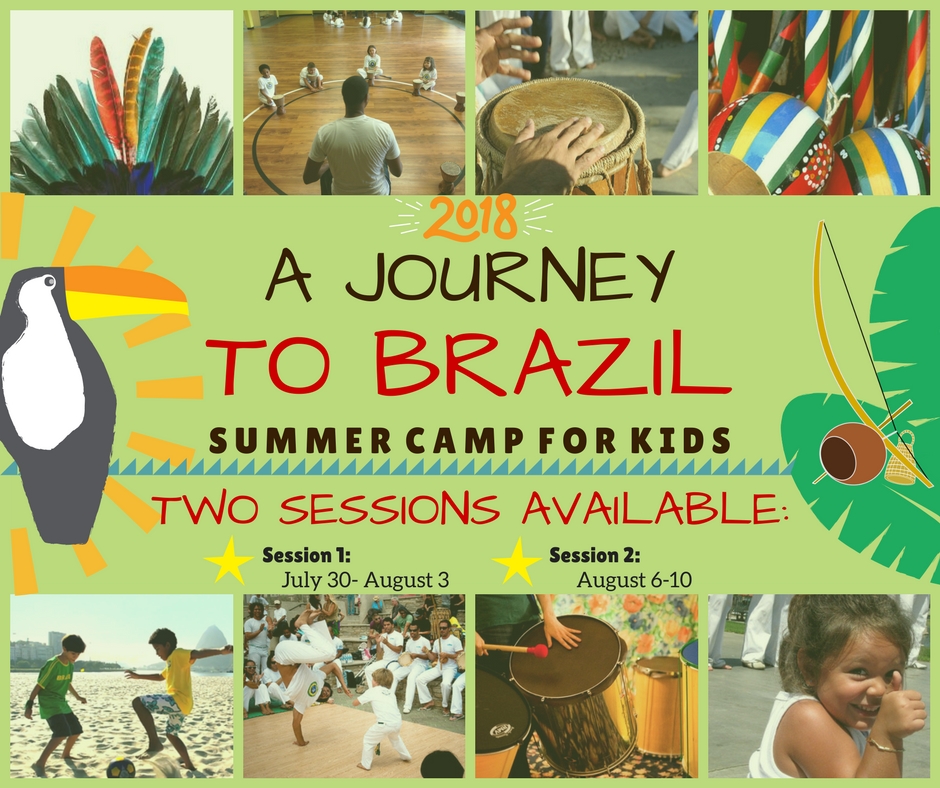 We will offer two sessions this summer:
> > Mon, July 30-Aug 3, 2018 from 8:30am-2pm
and/or
> > Mon, Aug 6-10, 2018 from 8:30am-2pm
Recommended Application and Registration Fee Deadline:
Mon, July 16, 2018 by 5pm
In order to confirm your child's spot in our summer camp, you must pay the registration fee as well.
Camp registration $175 (per session, per child)
If needed, Before/ After Care $5 (per 1/2 hour)
If you want, Extra Camp T-shirt $20 (each camper will receive a t-shirt)
Payment can be made:
IN PERSON: using cash, check or credit card.
VIA VENMO: @varal10
or VIA PAYPAL below:
Please note: there will be a 3% handling fee when using credit cards and PayPal.
For more information, contact Monica at (213) 344-9435 or via email artelutacapoeira@gmail.com.
---
"A JOURNEY TO BRAZIL": Summer Camp for Kids
Drumming * Capoeira * Soccer * Arts * Language * Culture
Hosted by ArteLuta Capoeira Academy
AGES: 5 -10 years old
CAMP DATES: Session 1: July 30-Aug 3 and/or Session 2: Aug 6-10
TIMES: 8:30am – 2:00pm (before/after care available)
FEE: $175 per week, per camper
(camp t-shirt, equipment and instruments, arts & crafts materials and snacks provided).
GIVE YOUR KIDS THE CHANCE TO EXPLORE THE WORLD FROM RIGHT HERE AT HOME!


Join us at the ArteLuta Capoeira Academy in Lomita, CA for a dynamic and fun-filled exploration of Brazil, one of the most diverse and spectacularly beautiful countries in South America.
Designed for youth ages 5-10 years old, "A Journey to Brazil" will immerse campers in the arts, culture, language, music and national sports of Brazil.
Each day, professional artists and practitioners will give kids a chance to create new works of arts, learn about and play Brazilian percussion instruments, enjoy interactive Portuguese language lessons, and get moving with soccer and capoeira — a Brazilian martial-arts dance form.
As a result of participating in this 5-day cultural immersion experience, kids gain artistic knowledge and skills, learn about the people, geography and environment of Brazil and create art works and performances inspired by the culture. On the last day kids showcase all they have created at a culminating performance for family and friends.
Lunch and Snacks
Kids need to bring their own lunch. Lunch is supervised. We will provide a morning and afternoon snack.
Before/After-Care
The camp is offered this summer for one-week from 8:30am until 2pm, however, we will provide before/after-care for an additional fee ($5 per ½ hour). Before/After care is supervised and unstructured. Children are encouraged to bring books, practice what they have been learning and/or continue working on their art projects.
Performance
On the last day, family and friends are invited to attend our Culminating Performance and Art Gallery where kids will perform, exhibit their art work, and share their learning.
CAMP ACTIVITIES
MOVEMENT (Capoeira & Soccer) with CM Varal
Capoeira is an Afro-Brazilian martial art developed originally by enslaved African people in Brazil. They brought their unique traditions and beliefs but needed to disguise their training, so capoeira was born, incorporating the attack and defense of martial arts with elements of dance, acrobatics and rhythm through live instruments, singing and clapping. Today, capoeira has evolved into a rich cultural experience that is more than just a fighting style.
Kids will also enjoy Brazil's favorite pastime of soccer with fun warm-ups, drills, and games. Capoeira and soccer are ideal for children because it encourages playful and spontaneous self-expression while encouraging teamwork and self-confidence.
Contra Mestre Varal has been training capoeira since the age of 11 in Brazil. He came to the US in 2006 and opened his own capoeira academy in 2010.
PERCUSSION with Delton Davis
Kids will not only learn how to play Brazilian rhythms using various drums and percussion instruments, but they will be inspired and empowered to continue to explore their own relationship to the rhythmically diverse world that surrounds us all. Learning about different musical styles is a fun and engaging way for kids to build cultural and global awareness which can foster love for oneself and for others.
Delton is the founder of KidsDrumming, known for bringing language and culture to children at an age-appropriate level of understanding. www.kidsdrumming.org.
VISUAL ARTS with Monica Harmonia
Kids will create their own masks, instruments and/or hanging storybook postcards to be displayed for parents at the end of the camp. The art of maskmaking is rooted in the traditions of indigenous people who live in the Amazon rainforest region. Kids will create their own masks inspired by the diverse flora and fauna of the Amazon rainforest.
Monica has been involved with arts education in some form or another almost all her life.