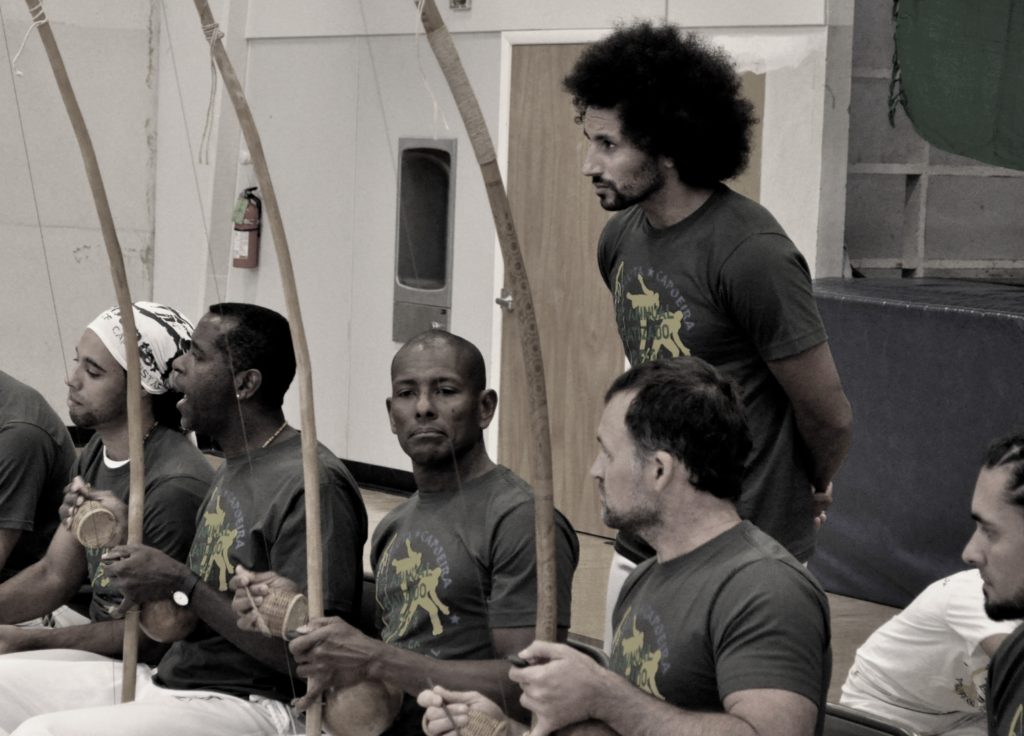 Contra-Mestre Varal began his capoeira training at the age of 11 inside the hall of a church in his neighborhood in Porto Alegre, RS – Brazil under Mestre Reco. He had no idea that this art form would eventually influence his life, and develop into his own life philosophy. Since then, Varal has trained and taught capoeira in numerous community centers, schools, sports centers, and martial arts academies all over Brazil and in the United States.
His story began when a group of friends got together to train capoeira in the Assunção Zona Sul neighborhood of Porto Alegre where Varal grew up. Mestre Leca, student of Mestre Indio of Bahia, and his students Rubão, Beto Loco, Reco among others, started to teach capoeira classes, changing the daily routine of this little community. These classes caught the attention of everyone in the neighborhood, especially the kids, who watched with great curiosity and admiration. Little by little, the church hall started filling up with spectators, kids and adults. And thus began his journey. He has not stopped training, playing, teaching and learning since.
Capoeira has the power to change lives with its strong cultural history and values. It is important to remember that capoeira emerged from an era of great suffering for Brazil, "and we must deliberately preserve our culture and nurture our roots."
Graduation
In 2000, Varal graduated as Professor of Capoeira by Mestre Indio (Bahia) and Mestre Reco  in Porto Alegre, RS – Brazil. Six years later, he came to California to teach, train and live with his teacher Mestre Reco, Mestre Onça Negra and Mestre Deputado in Redondo Beach, CA, USA.
2015 marked an important milestone as the leaders in our California capoeira community collectively promoted Varal to the rank of Contra-Mestre. They included Mestre Acordeon (UCA, Berkeley, CA); Mestre Roque (BodySport Capoeira, Long Beach, CA); Mestre Urubu Malandro (Capoeira Ijexá, San Francisco, CA); Mestre Amen Santo (Capoeira Batuque, Culver City, CA); Mestre Batata (Capoeira Besouro, Santa Monica, CA); Mestre Paulo Batuta (Capoeira Mandinga, San Diego, CA); Mestre Papaléguas (Capoeira Menino Bom, San Diego, CA); Mestre Mariano (Capoeira Batuque, Santa Barbara, CA); Mestre Penteado (Cordão de Ouro, Irvine, CA); Mestre Mumia (Capoeira Brasil, Long Beach, CA); Mestre Elias (Quilombos de San Diego, San Diego, CA); Mestre Borracha (Los Angeles, CA); Mestre Sabará (San Diego, CA); and Mestre Pelourinho (Tijuana, MX/ San Diego, CA).
The Nickname
In capoeira we have the tradition of the nickname. It is like a new identity and with Varal it was no different. When he was a small child, he received his first capoeira t-shirt, but, there was just one detail, it was adult size. Varal, always having been tall and thin, as if that wasn't enough, decided to cut the collar of the t-shirt and cut too much leaving the shirt very loose. One day he went to participate in the capoeira roda and it was a very windy day and that little boy's t-shirt did not stop flapping in the wind on his thin frame. Then Betão, one of the capoeiristas who was also participating in the roda, looked at him and said, "Look at that little boy, he looks like a clothesline" (called a varal in Portuguese). Then everyone looked at him and cracked up because, well, the t-shirt did look like it was on a clothesline. And from that moment forth, his nickname became Varal, his capoeira identity.
ArteLuta Capoeira Academy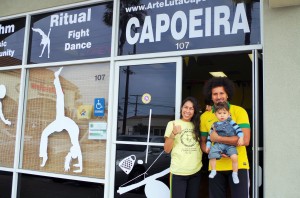 In May 2010, with the encouragement of his students and mentors, he opened ArteLuta Capoeira Academy in Lomita, CA – USA, together with his wife Instructora Monica Harmonia, with the mission of teaching, expanding and preserving the values, history, culture and legacy of the art of capoeira – bringing people together and changing lives along the way.