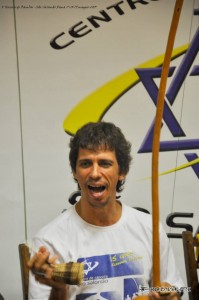 We are happy to announce that Mestre Mago will be back in Los Angeles teaching a special workshop at Capoeira Besouro in Venice on Wednesday, October 3rd from 7:00 – 10:00 pm.
MESTRE MAGO founded and teaches at Centro de Capoeira São Salomão in Recife, PE – Brazil.
Don't miss this opportunity to train with him.
WEDS, OCT 3, 2018
7:00 pm – 9:00 pm
Capoeira Besouro
709 Lincoln Blvd, Venice, CA 90291
$25 for workshop & roda | $15 roda only
This class is open to all levels of our capoeira community.
Mestre Batata and Arteluta Capoeira are co-hosting this workshop.
Learn more about Mestre Mago's work in Recife: www.capoeirasaosalomao.com.br/