Please note: We observe all national holidays.
Thanksgiving Break (11/23/17-11/25/17) & Winter Break (12/22/17-01/05/18)

MONDAY
5-6 pm – Kids Capoeira (Intermediate/ Advanced)
6-7:30 pm – Teens/Adults Capoeira (All Levels)

TUESDAY
10-11 am – Teens/Adults Capoeira (All Levels) – by appt only
5-6 pm – Kids Capoeira (All Levels)
6-7:30 pm – Teens/Adults Capoeira (All Levels)

WEDNESDAY
5-6 pm – Kids Capoeira (All Levels)
6-7:30 pm – Teens/Adults Capoeira (All Levels)
THURSDAY
10-11 am – Teens/Adults Capoeira (All Levels) – by appt only
5-6 pm – Kids Capoeira (All Levels)
6-7:30 pm – Teens/Adults Capoeira (All Levels)

FRIDAY
6-7:30 pm – Teens/Adults Capoeira (All Levels)
SATURDAY
11 am-12 pm – Kids Capoeira (All Levels)
12-1:30 pm – Teens/Adults Capoeira (All Levels)
12:15-1:00 pm – Portuguese Language Class w/Ingrid (Kids)
3:00-6:00 pm – 1st Saturdays: Samba Reggae Drumming w/Batalá LA (All Levels)

---
Sign up anytime! Beginners always welcome!
All classes held at ArteLuta Capoeira Academy
24100 Narbonne Ave, Lomita, CA 90717
Click here for LOCATION map and directions.
---
SPRING OPEN HOUSE WEEK:
Mon, March 13 – Sat, March 18, 2017.
All classes FREE for first timers.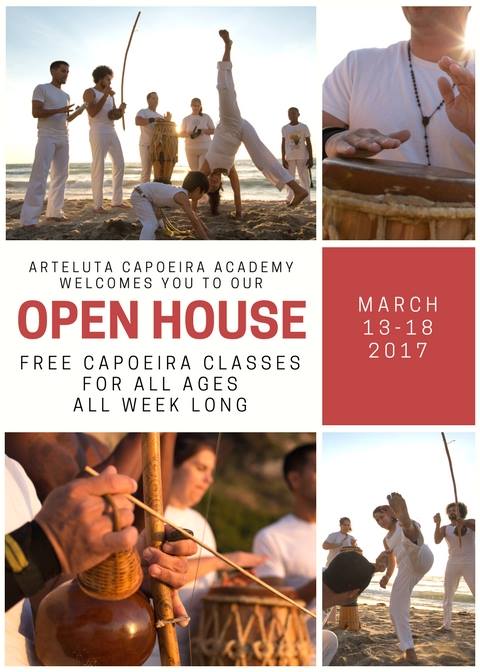 ---
CLASS DESCRIPTIONS
CLASSES FOR KIDS (Ages 4 and up)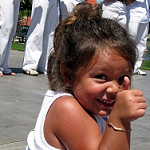 We offer classes for kids 5 days a week (Mon through Thurs and Sat). Kids learn capoeira through playful games and exercises that emphasize body coordination, listening skills, rhythm, discipline and self confidence. The music motivates and creates an exciting learning atmosphere where they will learn to sing in Portuguese and play traditional capoeira instruments.
KIDS CAPOEIRA SCHEDULE
Int/Adv Levels Kids: MON  5:00-6:00  PM
All Levels Kids: TUES+WEDS+THURS  5:00-6:00 PM
and SAT  11:00 AM – 12:00 PM
---
CLASSES FOR TEENS & ADULTS (Ages 12 and up)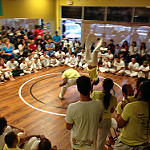 We offer classes for teens and adults of all levels 6 days a week (Mon through Sat). Capoeira involves the entire mind and body. Students will learn the history and philosophy, through the music sung in Portuguese and using traditional capoeira instruments. You will develop strength and increase flexibility while building endurance, balance, discipline, coordination and rhythm, in a healthy and supportive environment. Prepare to be challenged and allow yourself to grow.
CAPOEIRA – ADULTS/ TEENS SCHEDULE
All Levels: MON+TUES+WEDS+THURS+FRI  6:00-7:30 PM
and SAT 12:00-1:30 PM
Morning Classes TUES & THURS 10:00 AM – 11:00 AM by appointment only.
---
BRAZILIAN PORTUGUESE SERIES – Kids and Adults

This next 6-Class Beginners Series will go from April 18-May 6, 2017.
Only $75 for whole series – Adults
Only $50 for whole series – Kids
ABOUT THE INSTRUCTOR:
Professora Ingrid has been teaching English and Portuguese to both children and adults for over six years. She uses activities like songs, puzzles, riddles, illustrations and games in each class to build vocabulary, word analysis skills and to help with reading, listening, phonetic spelling and expression comprehension. Fun for the whole family and great for capoeiristas!
BRAZILIAN PORTUGUESE CLASS SCHEDULE
All Levels: TUES+THURS  7:30-8:45 PM
Kids: SAT 12:15-1:00 PM
---
AFRO-BRAZILIAN SAMBA REGGAE DRUMMING

Batalá Los Angeles is a community samba reggae performance group, open to all people interested in learning the music and choreography of Batalá.
Learn more:
www.facebook.com/BatalaLosAngeles
They rehearse at ArteLuta:
EVERY 1ST SATURDAY 4:00-6:00 PM