Address:
ArteLuta Capoeira Academy
24100 Narbonne Avenue, Suite #107
Lomita, CA 90717
View Larger Map
Next to Rizzo's Pizza, close to the City of Lomita Library and City Hall.
Plenty of free parking in front and behind the academy and along the street.
Contact Info:
E: artelutacapoeira@gmail.com
T: 310-947-4015 (Contra-Mestre Varal)
T: 213-344-9435 (Mônica)
STUDIO SPACE AVAILABLE FOR HOURLY RENTAL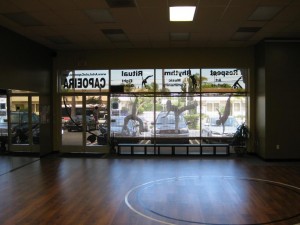 The ArteLuta Capoeira studio is available for rent outside the regular class schedule, i.e. during the morning and afternoon hours and weekends. The space is ideal for on-going classes, rehearsals or one-time workshops, photo shoots or special events.  It has high ceilings, nice lighting, clean floor, peaceful environment and plenty of free parking.
Contact Mônica for details: (213) 344-9435
More information at www.SpaceFinderLA.org